Isn't this 600 Celebration exciting? The 600 Celebration includes a
Giveaway
,
Product Reviews
,
Guest Posts
and
DIY Projects
JUST FOR YOU!!! Did you happen to check out the first recipe from
Huppie Mom
? Her
African Inspired Stew
looked amazing!
~~~~~~~~~~~~~~~~~~~
Dr. Carrie Wells is a local South Florida blogger. With two young children, a background in education, and a passion for food, she enjoys writing about healthy eating, natural living, and child development. You can visit her blog Huppie Mama to learn more!
This is a super easy-to-make, flaky french pastry crust with fresh herbs, roasted heirloom tomatoes, a little onion, and goat cheese. It's based on this David Lebowitz recipe:
French Tomato Tart
. Here's how to make it!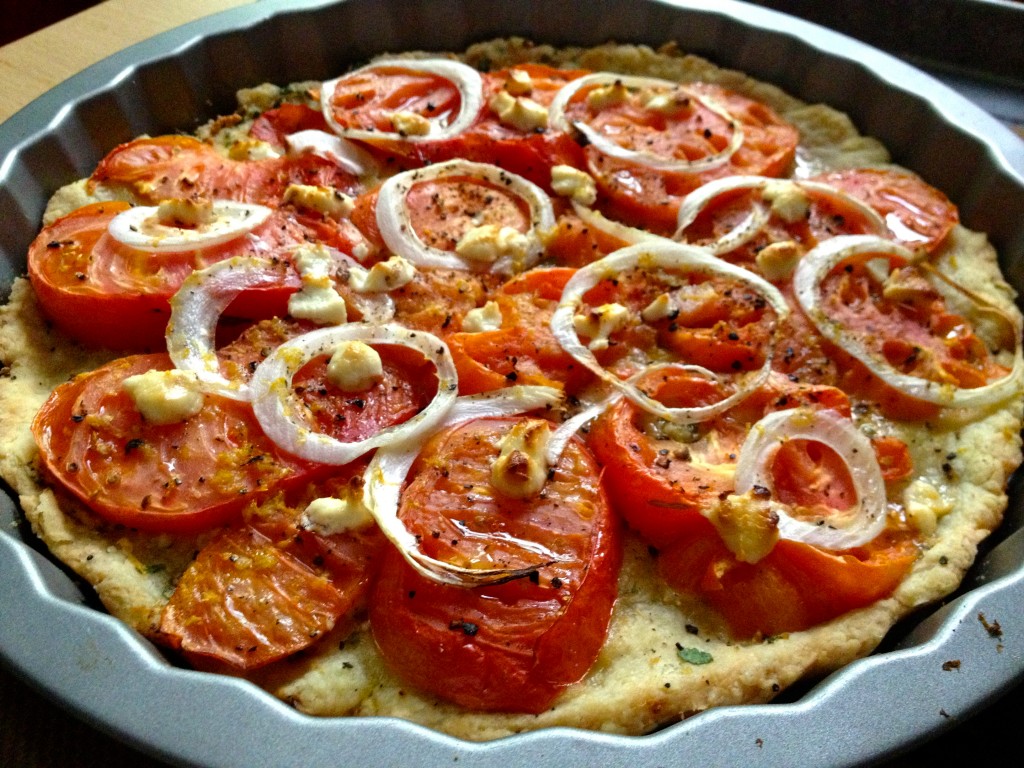 Ingredients:
For the tart crust
1 1/2 cups unbleached flour

4 1/2 ounces (9 T) unsalted butter, chilled, cut into cubes

1/2 teaspoon salt

1 large egg

2-3 tablespoons cold water
For the topping
2 - 3 large, ripe heirloom tomatoes, thickly sliced

2T fresh herbs of your choice (I used parsley and oregano)
2 cloves garlic
1/2 medium onion, thinly sliced
1 t lemon zest
3 T grapeseed oil
1/2 cup soft chevre (goat cheese)
salt & pepper to taste
Directions:
Preheat oven to 425 degrees. To make the dough, place flour and salt in a large bowl. Add sliced butter. Using a pastry cutter, combine until the mixture has a crumbly, cornmeal-like consistency. Add the egg and 2 tablespoons water. Combine until a dough is formed. If it is dry, add more water. Press the dough into a tart pan to create an even layer on the bottom and a little up the side.

Chop herbs and garlic finely, and combine with 1 tablespoon grapeseed oil. Brush on crust. Arrange tomatoes on crust, arrange onions on tomatoes, crumble goat cheese on top. Sprinkle with lemon zest, salt, and pepper, and the remaining 1 T of grapeseed oil.
Bake 25 - 30 minutes, until crust begins to brown along the edges and tomatoes look nicely roasted. Enjoy!