As part of my "600" celebration I have been blessed with several wonderful blogger who are sharing their inspired posts. The "600 Celebration" includes a BIG Giveaway, Product Reviews, Guest Posts and DIY Projects JUST FOR YOU!!!
~~~~~~~~~~~~~~~~~~~~~~~~~
Dr. Carrie Wells is a local South Florida blogger. With two young children, a background in education, and a passion for food, she enjoys writing about healthy eating, natural living, and child development. You can visit her blog Huppie Mama to learn more!
African-inspired Chicken Stew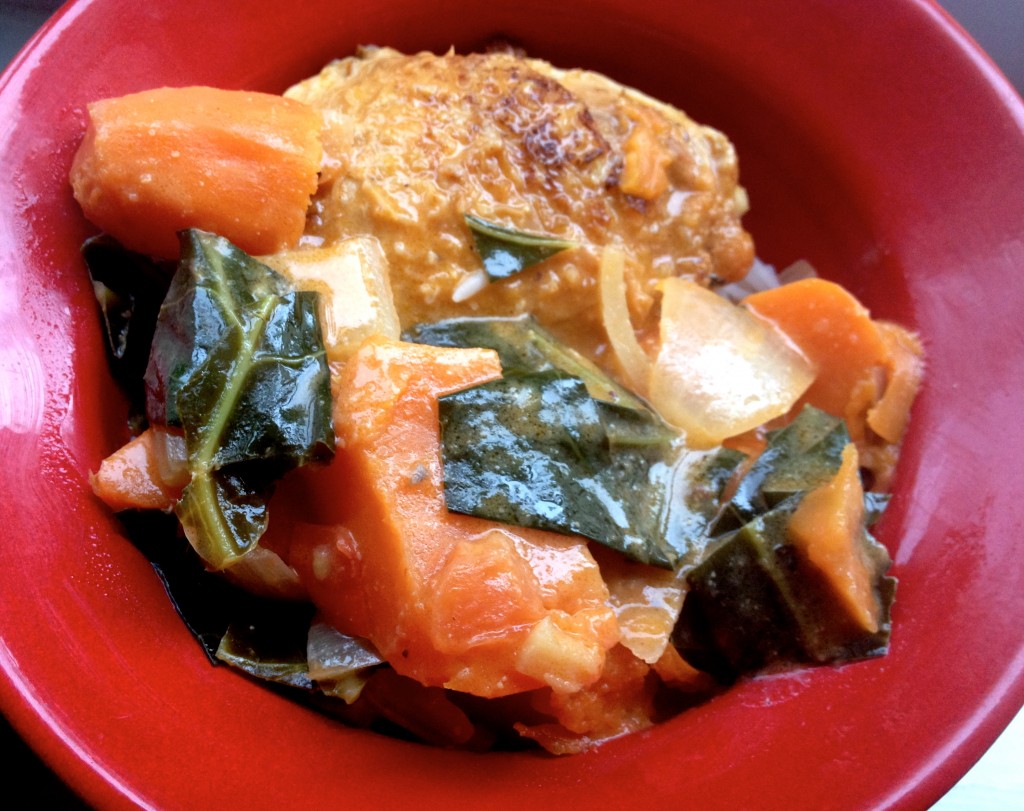 This recipe requires two things: foresight and preparation. If you want to cook foods in a traditional manner, you generally have to know in advance what you are making and do a little prep work.
Ingredients for advanced preparation:
2 pounds of chicken pieces (I used thighs - make sure they have their bones and skin)
1 pound of sweet potatoes
1 quart of chicken broth
1.5 cups jasmine rice
splash of raw apple cider vinegar
pinch of salt
water
About 6 - 8 hours in advance, you will do the following:
Defrost your chicken and/or chicken broth if frozen.
Cut your sweet potatoes into large chunks. Place them in a glass bowl, and cover them with water and a pinch of salt.
Place the jasmine rice in a glass bowl and cover with water and a splash of apple cider vinegar.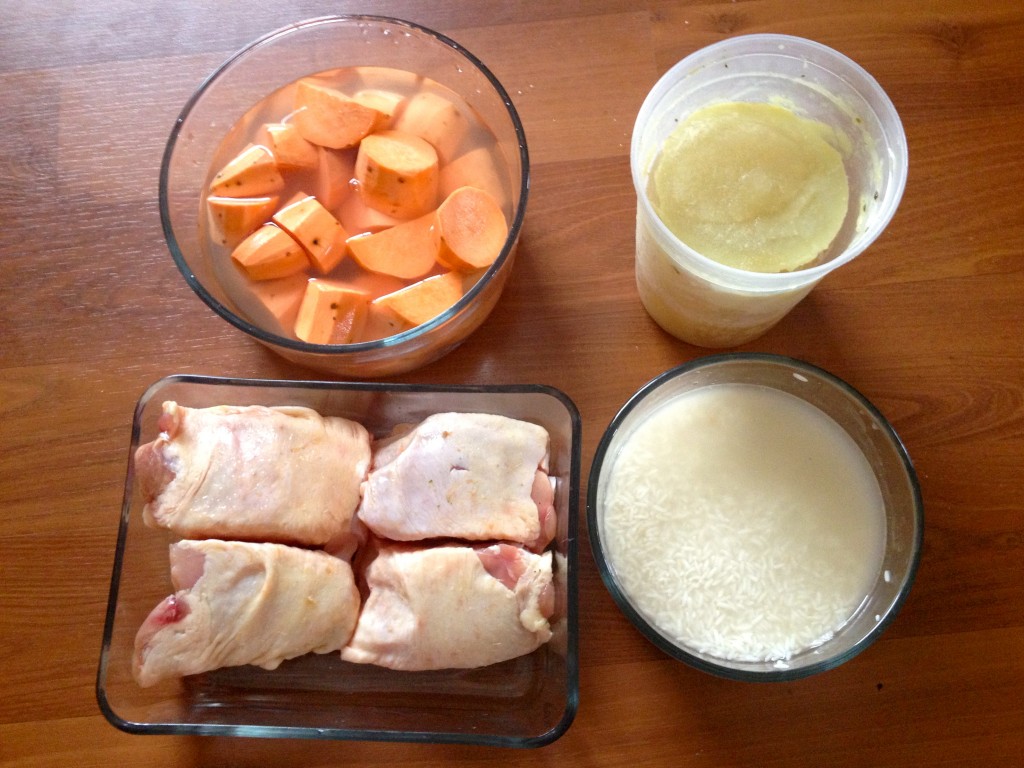 I store the chicken in the fridge after removing from any packaging. I placed the glass bowls and the container of broth in the microwave all day to keep safe while my children tear up the house.
Ingredients when you are ready to cook:
Chicken, chicken broth, jasmine rice, and sweet potatoes described above
1 large onion, diced
2 celery stalks, diced
2 tomatoes, diced
1 bundle collard greens, chopped into bite-sized pieces
1/4 cup nut butter (I used cashew, but you could do peanut or almond)
3 T tomato paste
3 cloves garlic, crushed
1 T freshly grated ginger
1 T traditional fat (I used rendered bacon fat, but you could use ghee as well)
salt & pepper to taste
Directions:
This dish should be prepared in a Dutch oven or similar heavy, large pot. Begin by placing the bacon fat or ghee in the pot and turning to a medium-high heat. Here's my bacon fat. We make our own bacon, so we render the fat while it's cooking and store it in a jar in the fridge.
Sprinkle with salt and pepper, and place the chicken pieces skin-side down into the fat.
You will be tempted to move the chicken around - don't do this! Watch closely, though. Use tongs to carefully start to lift the chicken to see if it's brown. When it's ready to be flipped, it will easily lift up with your tongs and will have a nice golden brown color.
Do the same to the other side. When both sides are browned on the outside, remove from the pan and place on a plate on your counter. Remember, your chicken is not cooked through. It is seared all around. This locks in the juices and makes very moist, delicious chicken.
Now, at the bottom of your pot, you have bacon fat and chicken fat swimming together. Yum! Add your onions, celery, garlic, and ginger to the pot. Allow them to saute for just a few minutes until the onions begin to turn translucent.
At this point, rinse off your sweet potatoes that have been soaking. Add those to the pot along with the nut butter, tomato paste, collard greens, and tomatoes. Stir this mixture.
Add the quart of chicken broth and bring to a boil, then lower to a nice simmer.
After about 5 minutes, add your chicken pieces and continue to simmer, uncovered.
This is when I begin my rice. Rinse your rice through a strainer and place in a pot with 1 cup of water. Turn the heat to medium-low, and place a lid on the pot. Monitor closely, and when the water looks like it almost gone, taste the rice. If the texture is good, turn the heat off and place the lid on top. If it is still too hard, add another splash of water and cook briefly. When you soak jasmine rice, the cooking time is brief and the amount of water required to cook the rice is minimal. (I did not take a photo of the rice...but I think you know what cooked rice looks like.)
I allowed my stew to simmer around 20 minutes so that the sauce reduced and thickened some, and the chicken was cooked through and the sweet potatoes were softened. At this point, taste it, and adjust the seasoning by adding a little salt and pepper. Here's what it looks like finished in the pot.
To serve, place a large scoop of rice at the bottom of a bowl. Ladle the delicious stew over your rice. Be sure to get a piece of chicken, some sweet potatoes, and collard greens.
~~~~~~~~~~~~~~~~
I hope you enjoy this delicious recipe.