Have you heard about Food Revolution Day?
On May 17th Mary's Kitchen and Back to the Basics will be participating in Food Revolution Day. Will you join thousands of people in over 60 countries to celebrate?

What is Food revolution Day?
Food Revolution Day
on 17 May is a global day of action for people to make a stand for good food and essential cooking skills. It's a chance for people to come together within their homes, schools, workplaces and communities to cook and share their kitchen skills, food knowledge and resources. Food Revolution Day aims to raise awareness about the importance of good food and better food education for everyone by focusing on three simple actions –
cook it, share it, live it
. The first Food Revolution Day took place on 19 May 2012 with more than 1,000 events in 664 cities across 62 countries. Find out all about Food Revolution Day 2012
here
.
Free Downloads
available!
The most important part of our Food Revolution Day will be eating
GMO Free!!! Check out our fb page for details or grab a button.
Getting involved can be as simple as posting a recipe you'll make for Food Revolution D

ay or just sharing what's it's all about.
P

lease

share on facebook and other social media!
March Against Monsanto is happening on May 25th. This is a worldwide protest and I encourage everyone to get involved.
Are you ready for another fantastic party?
The top clicked posts from last week are
and I

W

ant YOU on My Team from Mary's Kitchen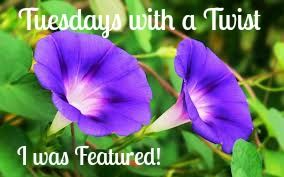 If you've been featured we've got a button for you!!
The party starts every Tuesday at 7am EST and will continue until Saturday at 11:59pm. Feel free to stop back any time and "like" your favorites. Please visit other blogs.
Share older posts as well as new ones. No limit on links!
*Pictures should be your own*
By linking up you give us permission to use these photos
(with proper link backs) in our features.