I love Tuesdays! In fact, I love every day! Thanks for joining us for another Tuesdays with a Twist.
We're your hosts, Mary and Joyce! This week I'd like to highlight a post from Joyce about getting more involved in your food source. Her post titled Dressing a Chicken with the Farmer is very important. Joyce is taking very important steps to live more sustainable...Even if that means stepping out of her comfort zone!
Are you ready for features? Top Clicked this week are:
We don't watch "live" tv either but we do catch the occasional movie or documentary on Netflix.
If you've been featured we'd love for you to grab a button.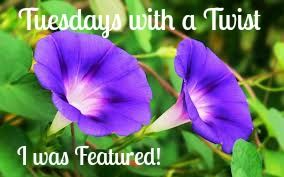 Before we get to the party...I didn't forget about the HUGE Heirloom Seeds winners I'll be announcing them Wednesday or Thursday. Check your emails and spam folders!!!
We all love comments! we try to comment on each and every link.
Please hop around and show some love!
The party starts every Tuesday at 7am EST and will continue until Saturday at 11:59pm. Feel free to stop back any time and "like" your favorites. Please visit other blogs if you have a moment.

Share older posts as well as new ones. No limit on links!
*Pictures should be your own*
By linking up you give us permission to use these photos
(with proper link backs) in our features.
And now for the party!